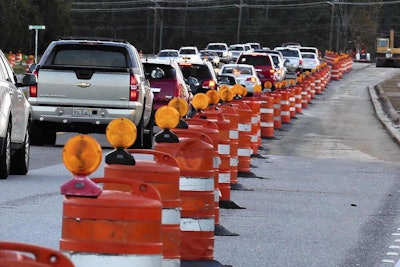 The American Road & Transportation Builders Association Transportation Development Foundation (ARTBA-TDF) has launched a new safety certification program aimed at transportation professionals who make safety-related decisions on projects.
The program, Safety Certification for Transportation Project Professionals (SCTPP), is also designed as a means of creating a safety benchmark for "future civil engineering and construction management program graduates who are interested in employment with industry leading firms."
"Ensuring that our project sites are the safest possible environments for all who work in and travel through them can't just be the safety director's job," says ARTBA Chairman David Zachry, president and CEO of the Zachry Corporation in San Antonio, Texas. "There are no safety 'accidents.' There are safety incidents. And we need to do our best to prevent them. It is our moral obligation and it is good business practice."
Zachry adds the association believes the program will help identify and reward transportation officials demonstrating "competency in this critical management area."
ARTBA-TDF contracted with Professional Testing Inc. to work with industry leaders to develop the SCTPP. The program, the foundation says, has been designed to meet the protocols for accreditation by the American National Standards Institute (ANSI) and the International Organization for Standardization ISO/IEC 17024.
Co-chairs of the commission that established the operational policies for the SCTPP include Ross Myers, CEO & chairman of Allan Myers Inc., and David Walls, president & CEO of Austin Industries in Dallas, Texas.
Also involved in developing portions of the program are safety experts from Zachry Construction, Lane Construction, Granite Construction, the Kiewit Infrastructure Group, Oldcastle Materials, The Vecellio Group, Barriere Construction, Superior Construction, Liberty Mutual Insurance, the Arch Insurance Group, the Laborers' Health & Safety Fund of North America, the Texas Department of Transportation, the National Institute for Occupational Safety & Health, Virginia Tech, The Center for Construction Research & Training, Plastic Safety Systems, InVia Pavement Technologies and Mobile Barriers.
The SCTPP exam is made up of 120 multiple-choice questions covering knowledge on assessing project risks, creating pro project safety plans, implementing and conducting on-going evaluation of a site-specific operational safety plan and conducting incident investigations. It is designed to span 2.5 hours.
ARTBA-TDF is currently accepting applications for the exam, which will be offered during three windows in 2017, including January 16-February 17, March 13-April 14 and October 16.-November 17. The fee is $500 for the application and exam and the certification will be valid for three years.
Eligibility requirements include:
Option 1
Three years' full-time or equivalent experience in the transportation construction industry.
Completion of an OSHA 30 or 510 course.
Option 2
Bachelor's degree in engineering or construction management with two years' experience in the transportation construction industry.
Completion of an OSHA 30 or 510 course.
Option 3
Associate or technical degree in safety with two years' experience in the transportation construction industry.
More information on the program is available at www.puttingsafetyfirst.org.