The Senate Committee on Commerce, Science and Transportation has approved the nomination of Elaine Chao for Secretary of Transportation. Her nomination will proceed to the full Senate once a hearing has been scheduled.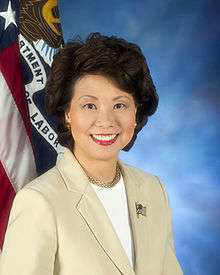 Chao previously served as Labor Secretary under George W. Bush and as Deputy Transportation Secretary under George H.W. Bush. She is married to Senate Majority Leader Mitch McConnell (R-Kentucky).
In her nomination hearing earlier this month, Chao emphasized the importance of safety, funding and the use of technology for the U.S. transportation system.
"In order to take full advantage of the estimated trillions in capital that equity firms, pension funds and endowments can invest, these partnerships must be incentivized with a bold new vision," Chao said at the hearing. "We look forward to working with you (the committee) to explore all the options, and to create a mix of practical solutions—both public and private—that provide the greatest cost-benefit to the public."