President-elect Donald Trump's Transportation Secretary nominee Elaine Chao highlighted safety, private investment and technology during her nomination hearing before the Senate Committee on Commerce, Science and Transportation Jan. 11.
Chao previously served as Labor Secretary under George W. Bush and as Deputy Transportation Secretary under George H.W. Bush, so she has a close familiarity with the department.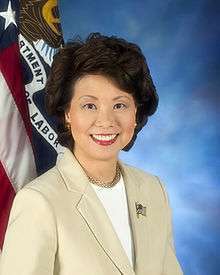 "Our country's transportation infrastructure is the underpinning of our world-class economy—one of the most productive, flexible and dynamic in the world," she said in a prepared statement. "It is a key factor in productivity growth, which has provided millions of hard working Americans with a standard of living that is the envy of the world. And it has provided us with unprecedented mobility, safety and security. Yet today, these gains are jeopardized by infrastructure in need of repair, the specter of rising highway fatalities, growing congestion, and by a failure to keep pace with emerging technologies."
Chao said safety would be the primary objective at USDOT, commenting that regulatory decisions needed to be based on "sound science and data" that includes "risk-based analysis" to focus on accident avoidance and that includes the cost and benefits of proposed regulations.
"The department will also work with states to ensure that billions of dollars of federal funds are focused on improving transportation system performance and project delivery," Chao said.
Echoing statements from Trump, Chao cited the potential for public-private partnerships, or P3s, as an ingredient in a mix of financial methodologies to accomplish the needs of transportation infrastructure projects.
"In order to take full advantage of the estimated trillions in capital that equity firms, pension funds and endowments can invest, these partnerships must be incentivized with a bold new vision," Chao stated. "We look forward to working with you (the committee) to explore all the options, and to create a mix of practical solutions—both public and private—that provide the greatest cost-benefit to the public."
She also referenced new technologies in transportation and how they will change both travel and commerce. "The private sector is driving this innovation. They are working with cities and states to demonstrate improvements in the safety and efficiency of autonomous cars and trucks. Drones are poised to become a major commercial force. The federal role in these sectors is still in its infancy. We want to work with Congress to position the federal government as a catalyst for safe, efficient technologies, not as an impediment," Chao said.
"The Department of Transportation has a key role to play in modernizing our transportation systems, strengthening our country's competitiveness, and improving our quality of life," she concluded. "I look forward to working with you to rebuild, refurbish and revitalize America's infrastructure, so our economy can continue to grow, create good paying jobs for America's working families and enhance our quality of life."