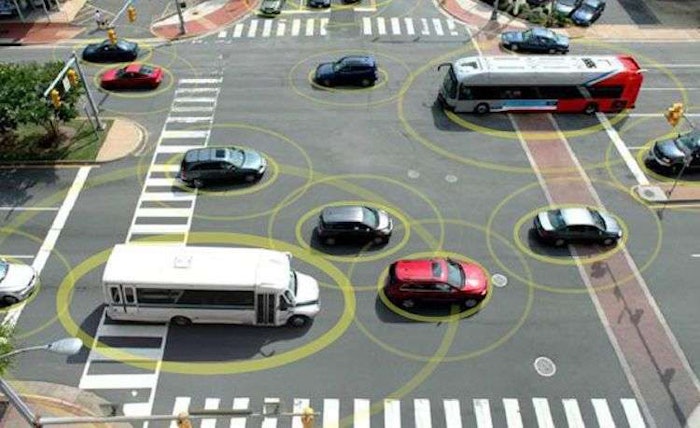 The Federal Highway Administration (FHWA) has issued vehicle-to-infrastructure (V2I) guidance aimed at improving safety and mobility "by accelerating the deployment of V2I communication systems."
The agency says the guidance complements the vehicle-to-vehicle (V2V) proposed rule issued in December.
"In addition to improving safety, vehicle-to-infrastructure technology offers tremendous mobility and environmental benefits," says FHWA Administrator Gregory Nadeau. "We took a big leap forward today by starting a national conversation about these topics, the future of V2I technologies and some of the bigger challenges facing us, such as privacy, security and interoperability."
FHWA says it developed the V2I guidance as a means of helping transportation system owners and operators employ V2I technology, as well as assist transportation agencies "understand what a decision to deploy V2I technology could mean to their region, prepare for emerging V2I/V2V technologies and leverage federal-aid funds to deploy them."
Topics covered in the guidance include:
Connected vehicle applications, programs and software
Planning for V2I activities for MPOs, local public agencies, transit operators and states
National Environmental Policy Act and National Historic Preservation Act
Interoperability among modes of transportation and on a national level
Evaluation of effectiveness, benefit/cost and user satisfaction
ITS equipment capability and compatibility for V2I integration and overlay
Hardware/software device certification
Reliability of deployed equipment
Use of right-of-way following current regulations and funding eligibility
Allowance of private sector use to maximize the possibility of private investment for deployment and operations
Design consideration for facilities to accommodate installation of v2i roadside equipment
Use of existing structures and infrastructure as long as its use has a public benefit and does not create potential safety issues
Use of public sector fleet to install and use components that enable v2i applications
Procurement process to enable consistent, secure, and interoperable implementations
Legacy system and devices to be retrofitted, replaced or supplemented by v2i applications
Communication technology that is consistent with application interoperability across the nation
Dedicated short range communication (dsrc) service licensing
Data connection and latency to ensure reliable data transfers between vehicles and infrastructure at appropriate transfer speeds
Connected vehicle privacy principles
Connected vehicle security
Data access, assigning data ownership or limiting access to data
Manual on uniform traffic control devices and its application to the design and content of message displayed on a traffic control device or sent to a driver
Using public-private partnership (P3s) and other commercial relationships for deployment
More details on the V2I guidance is available at https://www.its.dot.gov/v2i/.