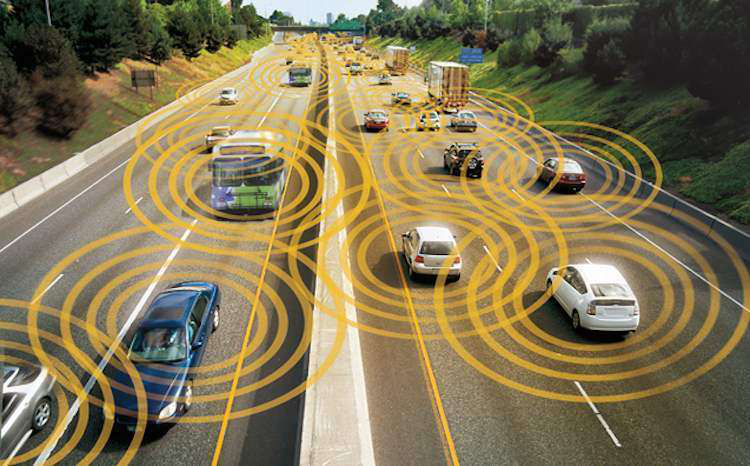 The U.S. Department of Transportation (USDOT) has issued a proposed rule for a requirement that all new light-duty vehicles be equipped with vehicle-to-vehicle (V2V) communication technology to aid in crash avoidance.
"We are carrying the ball as far as we can to realize the potential of transportation technology to save lives," says Transportation Secretary Anthony Foxx. "This long promised V2V rule is the next step in that progression. Once deployed, V2V will provide 360-degree situational awareness on the road and will help us enhance vehicle safety."
The proposal would require V2V devices to communicate through standardized messaging developed with automakers so the vehicles can "speak the same language." The Federal Highway Administration also plans to issue guidance for vehicle-to-infrastructure communications, which would allow vehicles to signal with traffic lights, stop signs and work zones, for example.
The National Highway Traffic Safety Administration (NHTSA) estimates the use of both technologies could stop or reduce the severity of non-impaired crashes by 80 percent.
USDOT began efforts to "accelerate" work on V2V implementation in February 2014 when Fox directed NHTSA to begin work on the rulemaking. That was followed by NHTSA issuing an Advance Notice of Proposed Rulemaking in August 2014.
USDOT and NHTSA issued the Federal Automated Vehicles Policy covering guidance for automated/autonomous vehicles on the nation's highways in September. The 116-page document, available here, covers four main categories: Vehicle Performance Guidance for Automated Vehicles; Model State Policy; NHTSA's Current Regulatory Tools; and Modern Regulatory Tools.
"Advanced vehicle technologies may well prove to be the silver bullet in saving lives on our roadways," says NHTSA Administrator Mark Rosekind. "V2V and automated vehicle technologies each hold great potential to make our roads safer, and when combined, their potential is untold."
The proposed rule is available here and the comment period is open for 90 days.