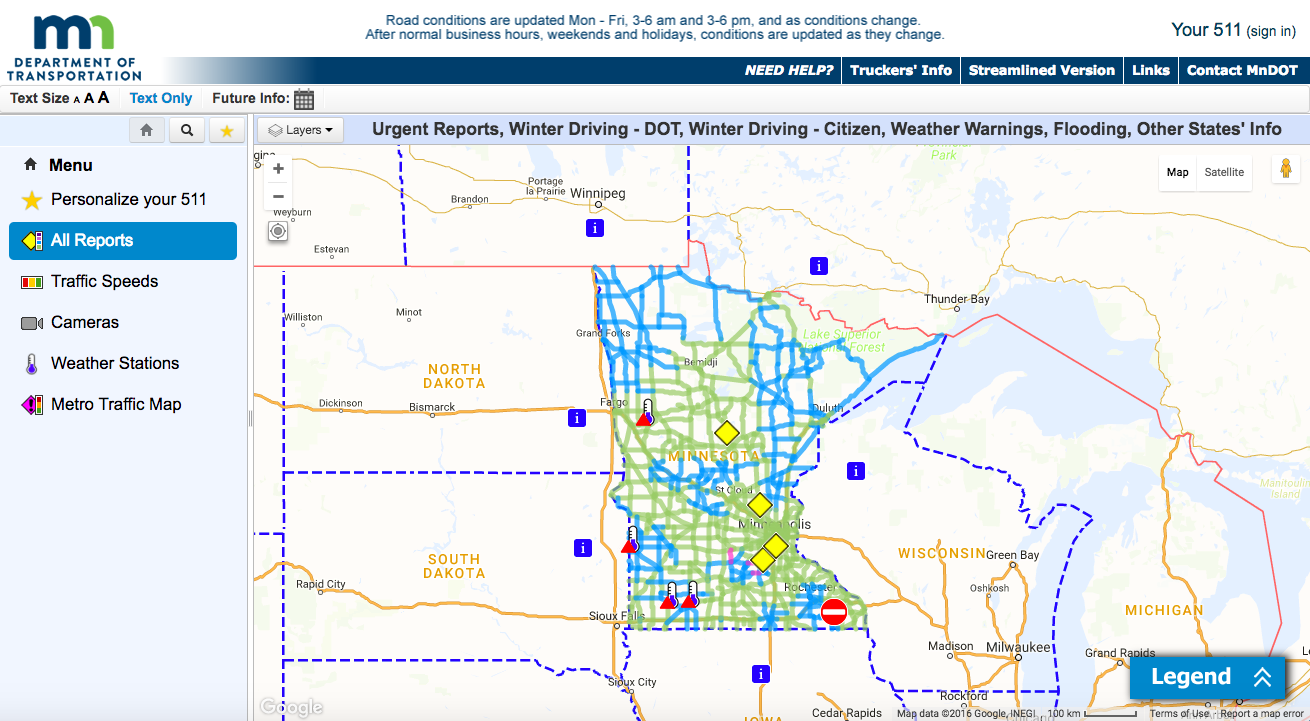 The Minnesota Department of Transportation (MnDOT) has added several new features to its 511 traveler information system, including a personalization feature for specific travel routes.
"Overall, the 511 traveler information system is getting better each year and more people are using it," says Kelly Braunig, 511 program manager. "These new features will help the traveling public make good decisions about winter travel."
For the mobile app version, Braunig says 1 million more motorists were using the system from the 2014-15 to 2015-16 winter seasons.
The new features include:
Personalize Your 511 – Motorists can enter up to 20 routes they travel to see where incidents, such as crashes or construction, are located. Users can also click on a specific incident to see a camera view. This is available on the full-featured and truckers' pages.
Smart 511 – This is the same as Personalize Your 511, but for a smartphone. Motorists sign up online and then enter their phone number to receive information.
Citizen Reporting – Motorists can submit driving conditions to the 511 system along a saved route. To use this function, users have to have an account through the "Personalize Your 511" feature. Users take a short online course to get registered. Motorists are advised to report driving conditions after they reach their destination. This is available on the full- featured site, but soon will also be on the truckers' site.
Tell Me – Motorists receive hands-free and eyes-free audio notifications on their smartphones about traffic conditions. Users download and open the app before they start driving. The feature uses motorists' GPS information.
Traffic Delay – On the traffic map, there is now an orange glow around an icon when there is a traffic delay due to a crash, construction or other traffic-slowing incidents. When users click on the orange glow, information will be provided on delays, travel times and direction of the delay. This is currently available only for interstate driving and shows a delay within two miles in each direction of an incident. This feature is on the truckers' and full-featured sites.
Road Weather Information System Alert – On the full-featured and truckers' sites, motorists will see a red triangle over a weather station icon when weather conditions such as fog, high winds, rain, ice and snow exist.
More details on MnDOT's 511 traveller system is available at www.511mn.org.