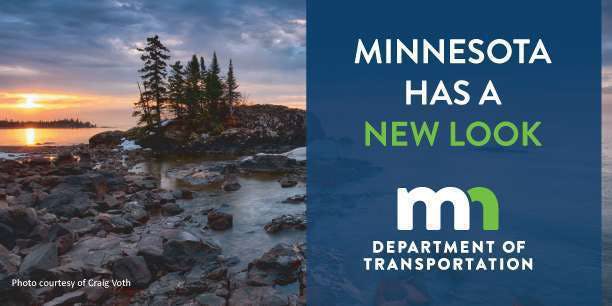 The Minnesota Department of Transportation (MnDOT) has launched a new logo as part of an overall branding unification effort by all state agencies. The move is the first major change to the department's look in 40 years.
"Using a unified brand presence across our state agencies will help inform citizens about the variety of services provided by state government," says Kevin Gutknecht, communications director.
The old logo, shown below, consisted of a round symbol with a pine tree and the North Star. It had been used for more than 30 years, and has served the agency well, Gutknecht adds. MnDOT is one of the first state groups to implement the new logo, and will be updating it on vehicles and materials as new ones are warranted.
"So, for a time, we will see new logos and old logos on trucks and truck station signs," Gutknecht says. "When it is time to change a sign or trade in a vehicle, we will change the logo then. The same goes for stationery and business cards. Use up the ones you have on hand, and when you order new material, it will have the new logo."
The goal timeline for all agencies to incorporate their version of the logo is July 1, 2017.