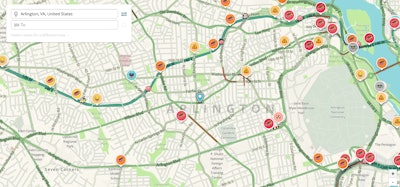 The Virginia Department of Transportation (VDOT) has partnered with crowdsourced traffic and navigation app Waze on the Connected Citizens Program.
Waze will provide VDOT with real-time Waze-generated incident and slow-down information directly from drivers as a complement to VDOT's 511Virginia system. VDOT will in turn provide verified work zones, crash and road closure data from its system.
"Virginia welcomes innovative partnerships of all kinds that bring the best of what the public and private sectors has to offer, which ultimately benefits the public," says Secretary of Transportation Aubrey Layne. "We're excited to partner with an international industry leader like Waze to continue to offer only the best real-time traffic information resources to Virginia's travelers."
"Waze is only as strong as the information it receives from its users and partners," says Adam Fried, New Business Development Manager at Waze. "VDOT will be able to use these anonymous insights to further promote safer roads. In exchange, VDOT is providing critical road closure and incident data to Waze, helping Wazers better circumvent major traffic events and real-time traffic blocks."
More details about the Waze Connected Citizens program are available at https://www.waze.com/ccp. The Waze app is free and available for iOS and Android platforms at http://www.waze.com.