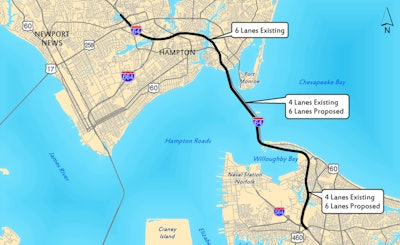 The Virginia Commonwealth Transportation Board has approved a "preferred alternative" for improving traffic on the I-64 Hampton Roads Bridge-Tunnel that will widen roughly 12 miles of the interstate from I-664 in Hampton to I-564 in Norfolk.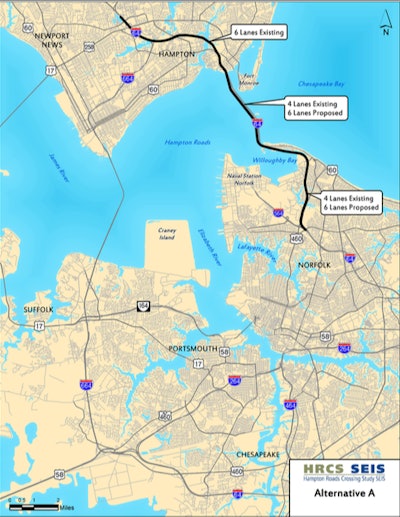 The plan, referred to as Alternative A, will widen roughly 12 miles of I-64 to six lanes and will include a new parallel bridge tunnel, all at an estimated cost of $3.3 billion.
"Today's endorsement of the Hampton Roads Bridge-Tunnel expansion clears the way for a leap forward in regional connectivity and congestion relief," says Transportation Secretary Aubrey Layne. "After years of talk and analysis, we now have the funding and the decision to act. This is monumental for Hampton Roads and Virginia. Commuters, businesses, our port and the military will all reap the benefits of this long sought-after solution to one of the biggest bottlenecks in the commonwealth."
The Virginia Department of Transportation (VDOT) says the Hampton Roads Transportation Planning Organization and the Hampton Roads Transportation Accountability Commission unanimously support Alternative A. The agency says the U.S. Army Corps of Engineers has had no objections to the plan either.
"Alternative A will increase capacity in the existing corridor, increase regional accessibility, improve emergency evacuation capability and military connectivity, reduce congestion and improve access from the Port of Virginia," VDOT reports.
VDOT will now work on pulling together documentation and public comments to form a final Supplemental Environmental Impact Statement on the project in Summer 2017. The department expects to submit a Record of Decision request to the Federal Highway Administration and receive a response soon after.
More details on the plan are available here.