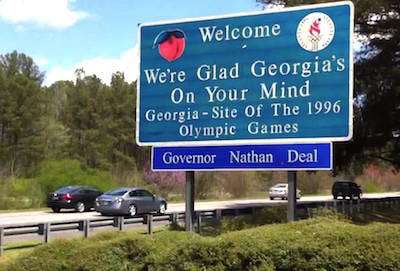 The Georgia Department of Transportation (GDOT) and the American Council of Engineering Companies of Georgia (ACEC Georgia) have announced the winners of the annual Georgia Partnership for Transportation Quality (GPTQ) Preconstruction Design Awards.
The awards "recognize engineering consultants and firms for exemplary work, innovation and ingenuity in transportation and infrastructure projects across the state of Georgia."
"Georgia is moving toward a bright, sustainable future for our transportation network," says Georgia Department of Transportation Commissioner Russell McMurry, who presented the awards. "It is a privilege to honor those leaders who will contribute to that successful future and highlight how their partnerships and teamwork contribute to positive transportation endeavors."
Columbia, South Carolina, firm Infrastructure Consulting & Engineering received the Grand Award for work on widening major metro Atlanta commuter artery Georgia 400 from McFarland Parkway to Bald Ridge Marina Road in Forsyth County. GDOT says it is one of the first major transportation projects to use solely state and local funding with no federal matching funds.
The project also involved GDOT using a "fixed cost/variable scope design-build procurement method" for the project. This was the first time the department used such a method and it provided a faster contract procurement and design process, which helped construction begin within a year of bond approval.
Other winners include:
GDOT Office of Bridge Design – Georgia 211 Bridge Over Beech Creek (Barrow County) Category: Innovative Solutions to a Design Problem/Best Use of New Products
Arcadis U.S. Incorporated – Kennesaw Mountain to Chattahoochee River Trail – North/Intown (Cobb County) Category: Design of an Alternative Mode Transportation Facility
Qk4 Incorporated and Edwards-Pitman Environmental Incorporated – Back River Bridge (Chatham County) Category: NEPA, Environmental Protection, Preservation, Restoration and/or Enhancement
Pond – Mableton Town Square (Cobb County) Category: Context Sensitive Design including Public Participation Plan
Arcadis U.S. Incorporated – Skip Spann Connector Bridge (Cobb County) Category: Bridge and/or Structural Design · Gresham, Smith and Partners – Roundabout – Georgia 33/U.S. 319 at 1st Street/SR 33 and Sylvester Highway (Colquitt County) Category: Traffic Safety and/or Intersection Design
R. K. Shah & Associates Incorporated – Georgia 11/U.S. 41 Widening (Houston County) Category: Highway Design – Urban
Wolverton & Associates Incorporated – U.S. 27 at Custer Road Interchange Improvements (Muscogee County) Category: Highway Design – Rural
Michael Baker International, Inc. – Jimmy Deloach Connector (Chatham County) Category: Design-Build