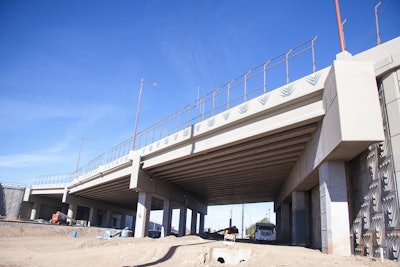 The Arizona Department of Transportation (ADOT) plans to open the overpass that carries Bell Road across Grand Avenue Nov. 22, as part of a $41.9 million interchange project in Surprise, Arizona.
ADOT's goal was to reopen Bell Road before the holiday shopping season, and then subsequently complete the entire project before spring training baseball season. The agency says the interchange will help eliminate train delays from the BNSF Railway tracks near Grand Avenue to keep traffic flowing.
The remaining work following the Bell Road reopening includes completing ramps that connect the two roadways and finishing the eastbound lanes on Grand Avenue.
"We know how important it is for commerce in the area to have both of these roadways function well," says Dallas Hammit, ADOT's state engineer and deputy director for transportation. "That's why we worked closely with the community to create a project that supports businesses and improves the quality of life in Surprise."
Bell Road has been closed since April 1, and ADOT says the closure helped it finish the road faster. The design includes on- and off-ramps placed in the middle of the interchange, which created a smaller footprint leading to less of an impact on local businesses. ADOT also designed detour routes that allowed access to these businesses on both sides of the project.
"With teamwork and careful planning, we were able to maintain access to the Bell-Grand business district throughout this very important project, and our community responded by continuing to shop this area," City of Surprise Mayor Sharon Wolcott says. "The reopening of Bell Road is the perfect kick-off to the holiday shopping season!"