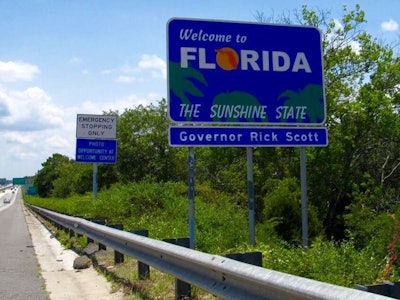 Nearly 2,000 students from approximately 50 schools in Broward, Palm Beach and Miami-Dade counties received hands-on training at the Florida Department of Transportation's 16th annual Construction Career Days, the Sun Sentinel reports.
The event, which took place last week at the Bergeron Rodeo Grounds in Davie, hosted 47 hands-on learning labs that allowed students to experience environmental planning, surveying, traffic management, multi-media training, equipment maintenance, job huntine and more, as well as use an excavator simulator.
"What we're trying to do is expose kids to the variety of career opportunities there are in the transportation industry, particularly highway and bridge construction and maintenance," FDOT spokeswoman Barbara Kelleher told the news agency, adding that the agency had teamed up with more than 100 Florida companies, local governments and schools for the event.
"I actually got to drive one of the dump trucks," Peter Charles, an 18-year-old senior from Coconut Creek High School told the news agency. "I was really nervous, because I didn't want to mess up the machine."
High schoolers interested in building roads, learned how to make just the right consistency of concrete and asphalt by using melted chocolate and mixed nuts. The "cookies" couldn't be too hard or too soft…and the students ate the results.
Tracy Hoppe, an automotive technology instructor at Robert Morgan Educational Center and Technical College in Miami, was impressed by the interactive nature of the event and told the news agency that "one of the largest growing fields right now is in diesel repair because of all the construction sites south of [Lake] Okeechobee. They need people to repair all the trucks, tractor trailers, backhoes [and] they don't have enough."
Kelleher told the news agency that career days aren't just about building roads and bridges, "They are building bridges between school and their work life, literally and figuratively."
"The kids really love it," Carolyn Khan, a Coconut Creek High School teacher, told the news agency. "It's fun, it's engaging, and they never want to leave."