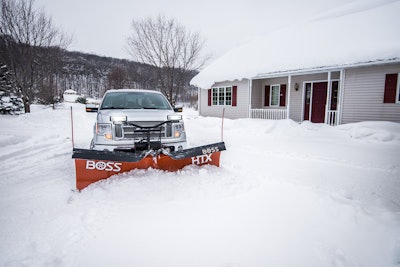 BOSS Snowplow has introduced the HTX V-plow for half-ton and light-duty trucks aimed at the contractor and homeowner market.
"We know tackling winter can be a challenging endeavor. The HTX V-plow provides a new offering for those who demand extended functionality from their plow while using a half-ton or lighter-duty vehicle," says Mark Klossner, marketing vice president.
The HTX V-plow is available in mild steel and offers a full moldboard trip design the company says will minimize plow and truck damage to obstacles in the plowing path. It also features a steel moldboard that is reinforced with diagonal cross-bracing and a formed bottom channel. It comes standard with the BOSS SmartLight 3 LED headlight system.