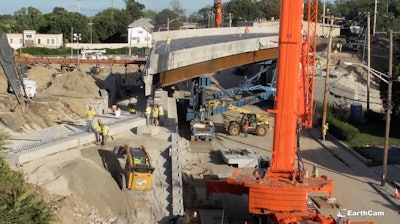 Over the span of just 80 hours, the Rhode Island Department of Transportation carried out a rapid bridge replacement of the East Shore Expressway Bridge in East Providence.
Between September 9 and 13 the department demolished the old bridge—classified as functionally obsolete with significant concrete cracking—and installed a new span which was built in temporary staging areas on supports next to the old bridge.
The entire process, which RIDOT says saves one year of construction time, was captured by EarthCam and can be seen in the time-lapse below. The bridge carries traffic from Interstate 195 East at Exit 7 to the East Shore Expressway southbound.
RIDOT started a second, 80-hour rapid bridge replacement Monday night on the McCormick Quarry Bridge.