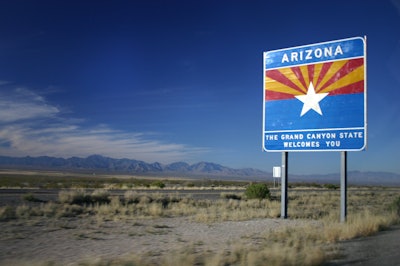 Updates to a section Arizona's SR 189 aimed at improving international traffic through the Mariposa Port of Entry will start two years earlier than previously planned after approval from the Arizona State Transportation Board.
The work can begin earlier due to a $25 million appropriation the state recently passed. An additional $40 million will come from federal funds to help with the estimated $75 million in total costs.
The improvements to the 3.75-mile stretch of SR 189 in Nogales will begin in 2019 and involve building a flyover ramp connecting the roadway to northbound Interstate 19; widening the exit ramp from southbound I-19 to SR 189; a raised median along SR 189; improvements to the intersections with Grand Avenue, and at Target Rand Road and the interchange at the interstate.
"These improvements to SR 189 are essential because the Mariposa Port of Entry is one of the busiest ports along the U.S.-Mexico border," Arizona Department of Transportation director John Halikowski says. "SR 189 may be one of the shortest routes on the state's highway system, but it is one of the most critical when it comes to commerce and trade."
"Mexico is Arizona's largest international trading partner, and improving how trade moves along this critical route in Nogales will help grow Arizona's economy," Gov. Doug Ducey says. "Getting this work started sooner is another way Arizona is moving at the speed of business."