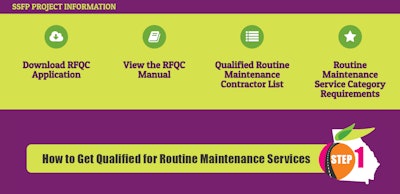 The Georgia Department of Transportation's (GDOT) State Supported Funding Program (SSFP) has created a Business Resource Help Center to help eligible disadvantaged business enterprises (DBE), small and veteran-owned businesses with opportunities funded by the Transportation Funding Act (TFA).
The center aims to provide training, consulting services, targeted "matchmaking", one-on-one assistance, meeting space and computer access for businesses. SSFP business specialists will staff the center located in Decator.
"As the newly elected chairman of the State Transportation Board, the opening of this center reaffirms my commitment and GDOT's commitment to ensuring that the department provides access to opportunities for all contractors throughout the state of Georgia," says Chairman Robert L. Brown. "We are fully committed to the success of the DBE program and the businesses that participate."
GDOT believes the center will help in catching up on a backlog of maintenance projects such as crack sealing, pothole repair, striping, guardrail repair, right-of-way clearing and vegetation maintenance.
"These routine maintenance activities offer DBEs and small and medium-sized businesses—who may have not previously worked with GDOT—the opportunity to establish themselves as a qualified contractor to bid on projects," the agency says.
More details on the Business Resource Center are available at www.gdotstateprojects.com.