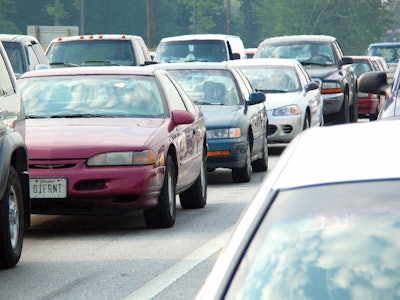 The National Academies of Sciences, Engineering and Medicine Transportation Research Board (TRB) has named 14 to a committee working on its Future Interstate Study, a 30-month project aimed at determining actions needed to upgrade and restore the U.S. interstate highway system.
Section 6021 of the Fixing America's Surface Transportation (FAST) Act called for the TRB to conduct the study.
"The committee will consult with national experts, operators and users of the interstate system and private sector stakeholders as it addresses its task and recommends ways to ensure we have a premier system that meets the growing and shifting demands of the 21st century," says TRB Executive Director Neil Pedersen.
In the first 20 months of the study, committee members will "meet regularly to hear from key stakeholder groups" to develop its report.
Committee members include:
Norman R. Augustine (chair), former chairman and CEO of Lockheed Martin
Victoria Arroyo, executive director of the Georgetown Climate Center at Georgetown University Law Center
Moshe Ben-Akiva, Edmund K. Turner Professor of Civil and Environmental Engineering at the Massachusetts Institute of Technology (MIT), and Director of the MIT Intelligent Transportation Systems Lab
Ann Drake, chairman and CEO of DSC Logistics
Genevieve Giuliano, Margaret and John Ferraro Chair in Effective Local Government in the Sol Price School of Public Policy, University of Southern California, and Director of the METRANS joint USC and California State University Long Beach Transportation Center
Steve Heminger, executive director of the Metropolitan Transportation Commission (MTC). MTC is the regional transportation planning and finance agency for the nine-county San Francisco Bay Area
Chris Hendrickson, the Hamerschlag University Professor of Engineering Emeritus, Director of the Traffic 21 Institute at Carnegie Mellon University, member of the National Academy of Engineering and editor-in-chief of the ASCE J. of Transportation Engineering
Keith Killough, director of Transportation Systems Analysis at the Arizona Department of Transportation
Adrian Lund, president of the Insurance Institute for Highway Safety and its affiliate, the Highway Loss Data Institute
Joan McDonald, the principal of JMM Strategic Solutions and a member of the National Infrastructure Advisory Council
Norman Mineta, president and CEO of Mineta & Associates, LLC and former Secretary of Commerce under President Bill Clinton and Secretary of Transportation under President George W. Bush
Kirk Steudle, director of the Michigan Department of Transportation
Michael Townes, retired as senior vice president and National Transit Market Sector Leader at HNTB Corporation
Michael Walton, professor of Civil Engineering and holds the Ernest H. Cockrell Centennial Chair in Engineering at The University of Texas at Austin, and holds a joint academic appointment in the Lyndon B. Johnson School of Public Affairs
More details on the study, including committee meeting dates (the first is set for September 6-7), are available at interstate.trb.org.