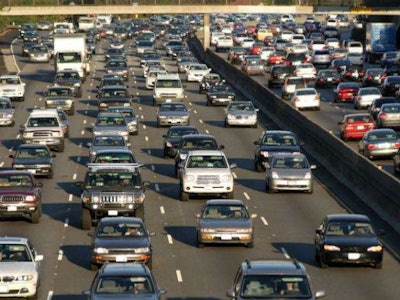 Vehicle miles traveled (VMT) for the first six months of 2016 has broken a record, reaching 1.58 trillion million miles, according to the Federal Highway Administration's (FHWA) most recent Traffic Volume Trends report. The previous record of 1.54 trillion miles was set last year.
FHWA says for comparison, 1.58 trillion miles equates to roughly 250 round trips from Earth to Pluto.
For June, VMT in the U.S. reached 282.3 billion miles, a small increase over the same month in 2015. The seasonally adjusted figure, which the Bureau of Transportation Statistics (BTS) uses to "even out seasonal variation in travel" for comparison purposes, was 268.1 billion miles. This was an increase of 2.9 percent compared to June last year.
The stats in all five regions measured by the BTS increased in June, and was led by the 13-state West region, with an increase of 4.1 percent. The Northeast region had the smallest percentage increase at 2.4 percent. Hawaii led all states with an 8.6 percent rise, with Idaho and Utah tied for second at 5.1 percent.
The only VMT decrease was seen in North Dakota, with a 2.4 percent drop.
The Traffic Volume Trends report compiles data collected from roughly 4,000 continuous traffic counting locations across the country. The current monthly Traffic Volume Report and figures from previous years are available here.