The Pennsylvania Transportation Commission has updated the state's 12-year transportation program that will provide $61.9 billion over that time span for road, bridge, transit, airport and railroad projects. The plan provides for $1.4 billion less than the last update in 2014.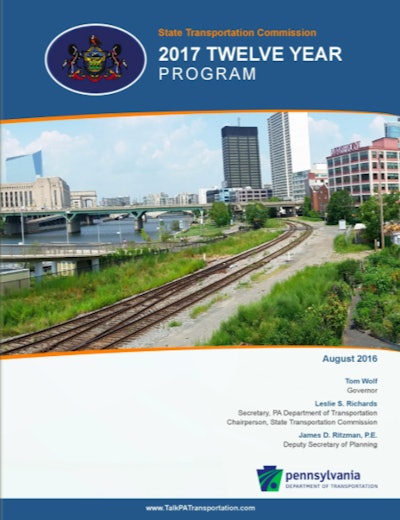 The plan is required by state law to be updated every two years and no capital project can continue if it is not included. This update takes effect October 1 and makes $11.3 billion available for state highway and bridge projects in the first four years, the largest single segment of the plan.
"Through on going efficiencies at PennDOT, we continue to stretch taxpayers' dollars to reach as many transportation needs as possible," says Pennsylvania Department of Transportation Secretary Leslie S. Richards. "This update reflects the progress we are making, chipping away at our large backlog of pavement and bridge needs while adding some capacity expansion to address long-standing desires for better mobility."
Key highway and bridge projects included in the plan PennDOT identifies include:
Reconstruction of the Interstate 95 corridor in southeastern Pennsylvania – $3.3 billion.
Reconstruction of I-83 in the Harrisburg region, including reconstruction of the Eisenhower Interchange – $647 million.
Reconstruction of I-70 in Westmoreland and Washington counties – $491 million.
Central Susquehanna Valley Transportation Project, Snyder, Union and Northumberland counties – $331 million.
Reconstruction of I-84 in Pike County – $318 million.
Reconstruction of U.S. 1 in Bucks County, $250 million.
U.S. 222 improvements in Lehigh and Berks counties – $160 million.
Replacement of the I-84 bridges over Lackawanna County Railroad and Roaring Brook in Lackawanna County – $143 million.
U.S. 322 Potters Mills relocation, Centre County – $122 million.
Widening of U.S. 322, the Conchester Highway, in Concord Township, Delaware County – $97.6 million.
Rehabilitation of the 6th, 7th and 9th Street bridges in Pittsburgh ­– $67 million.
I-376/Banksville interchange improvements in Pittsburgh – $62 million
U.S. 6 reconstruction in Meadville – $10.4 million.
Route 403 Central Avenue Bridge replacement over Stonycreek River in Johnstown – $7.5 million.
More information about the plan is available at TalkPATransportation.com.