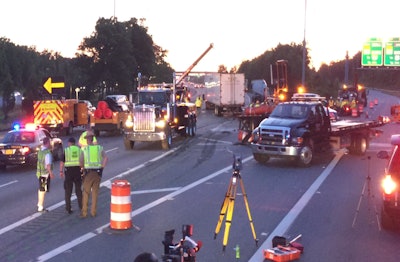 The Federal Highway Administration (FHWA) has graduated the 200,000th emergency responder from its Transportation Incident Management (TIM) training program, a four-year-old system aimed at improving the safety of first responders working at highway crash scenes.
"This training is vital to the men and women who arrive at the scene of a highway crash who often risk their own lives bringing safety and care to others," says Transportation Sec. Anthony Foxx. "Besides protecting emergency workers and ensuring crash victims receive immediate attention, these practices reduce the chance of secondary crashes and prevent traffic jams by keeping traffic moving for other drivers."
The TIM course, designed by responders, is designed to help police, firefighters, highway workers and emergency medical and towing personnel learn a common set of practices covering quick clearance techniques that improve communications and cut down time they need to remain on a crash scene.
FHWA says delays from crashes and traffic incidents cause roughly half of all traffic delays, and decreases highway safety, limits freight movement and makes worker commute times longer.
The agency reports those completing the training have come from all 50 states, the District of Columbia and Puerto Rico.