Officials recently held a groundbreaking ceremony to symbolically begin the U.S. 181 Harbor Bridge Replacement Project in Corpus Christi, Texas, a project that will be the longest precast concrete cable-stayed span in the U.S. once completed.
The project is estimated to be finished in 2021, cost $930 million and will feature six lanes with shoulders. It will have a 205-foot clearance over the Corpus Christi Ship Channel, providing more space for larger ships than the 138 feet provided by the existing bridge built in 1959. The project also will include a pedestrian walkway spanning the entire length of the bridge.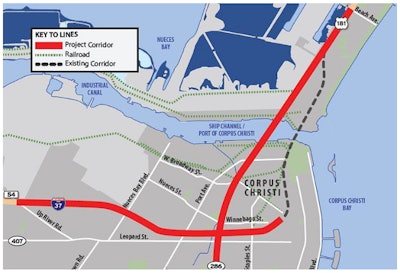 Flatiron/Dragados, which was awarded the design and construction contract, will give the bridge a main span of 1,655 feet and two main towers reaching 538 feet tall. By using precast concrete, the Texas Department of Transportation says the ship channel can stay open to freight shipments during construction.
A new interchange at Interstate 37, U.S. 181 and Texas 286 (Crosstown) also will be constructed as part of the project, as well as reconstruction of 1.6 miles of I-37 and reconstruction of 1 mile of Texas 286. The old bridge will be demolished once the new span is completed.
"I would like to congratulate TxDOT, the City of Corpus Christi and the Port of Corpus Christi on this achievement," says Gov. Greg Abbott. "Today's groundbreaking marks an important step in Texas' goal of creating a 21st century infrastructure system that gives us an advantage on our global competitors. As one of the largest bridge projects in Texas history, the Corpus Christi Harbor Bridge will lead to an expansion in commerce, ultimately creating more jobs and enhancing Texas' standing as an economic powerhouse."