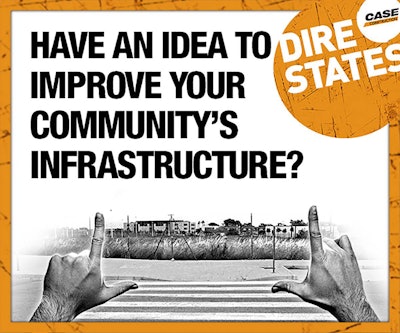 Case Construction Equipment is extending its deadline for entries for the company's Dire States Equipment Grant.
The deadline to enter for the grant, which will give a municipal, county or other local government $25,000 in free equipment to offset the costs of building or repairing a critical piece of local infrastructure, has been extended to August 19. The previous deadline was August 1.
All projects that fall within the ASCE Infrastructure Report Card's 16 core categories will be considered for the award including: road/bridge repair or construction, utility pipe replacement, erosion control along lakes and rivers, wastewater system improvements and park/recreational construction.
Entrants must describe the project and explain why the piece of infrastructure being built or repaired is important to the community.
Submissions can be completed at https://direstates.com/grant-alert/. Case says winners will still be announced in September.