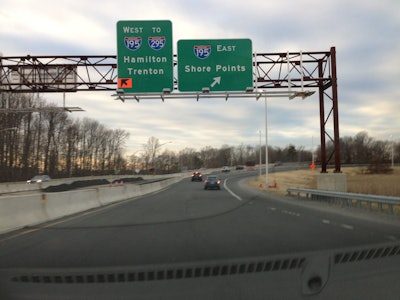 New Jersey Gov. Chris Christie has passed on a new plan submitted by state Senator and Senate President Steve Sweeney and Assembly Speaker Vincent Prieto to fund the state's Transportation Trust Fund (TTF).
State officials have been at a stalemate over this funding, with Christie previously ordering a shut down of projects provided by the TTF starting at 11:59 p.m. July 8.
American Road & Transportation Builders Association chief economist Allison Premo Black says a prolonged shutdown could cost up to $1.3 million per day in lost sales, wage and economic activity, and affect 1,500 non-construction jobs.
Christie says the new proposal, which would have increased the state fuel tax to 37.5 cents per gallon per gallon was "dead on arrival."
"I reviewed this weekend the Democrats' latest plan to fund the Transportation Trust Fund through a massive gas tax hike that does not represent tax fairness to the residents of New Jersey," he says. "Therefore, I cannot support it. As I have said for two years, any solution for a Transportation Trust Fund must have as its foundation tax fairness. This proposal does not."
A previous proposal Christie supported, but was turned down by the state Senate, called for an increase in the tax on gasoline from 10 cents per gallon to 21.5 cents per gallon, and on diesel from 13.5 cents to 24.5 cents beginning July 1 this year for fiscal year 2017. It also called for these taxes to increase by 2 cents per gallon in subsequent years.
That plan tax was estimated to generate roughly $550 million in additional funding for fiscal year 2017 and roughly $100 million per year in additional funding after that, and pushed total construction project funding to $2 billion per year.
The new proposal was estimated to $2 billion per year for the TTF and would have increased tax credits for low-income families and phased out an estate tax as a means of offsetting the gas tax increase.