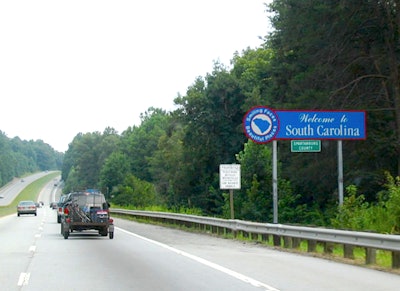 The South Carolina Department of Transportation (SCDOT) has slated 10 substandard bridges on state roads in Pickens County to be replaced, thanks to the roads legislation adopted by the Legislature this year, Greenville Online reports.
The new legislation will generate $950 million over the next 10 years to replace 400 deficient bridges statewide and will allow the agency to begin planning for the projects while the new revenue begins to accumulate.
There are a total of 104 substandard bridges on state roads in Pickens County, but the following 10 bridges are slated for replacement:
S-100: Cleo Chapman Highway.
S-105: Simms Mill Road.
S-140: Hunts Bridge Road/Martin Road.
S-250: Hester Store Road.
S-267: Belle Shoals Road/Bethlehem Ridge Road.
S-277: Lay Bridge Road.
S-32: Shady Grove Road.
S-355: Cherokee Trail.
S-98 (2 bridges): Sugar Likker Road.
SCDOT spokeswoman Kimberly Corley told the news agency that it's uncertain how long it will take to replace the 10 bridges, currently adorned with weight restriction signs, but they are part of a 10-year program.
"We'd love to be able to do them all in one year, but they will probably be done on a priority basis," she said, adding that construction on the first set of projects is expected to begin next year.
Pickens County also has $18 million in road resurfacing work that needs to be done, Corley told the news agency, adding that each county's resurfacing allocation will be updated annually.
According to the news agency SCDOT says while the new legislation "is a good first step on highway funding, it is not a long-term or complete solution for addressing the infrastructure needs of South Carolina. The state is at a critical point where additional and rapid growth is putting extreme demands on a transportation system that is far from being in good condition."
Sec. of Transportation Christy Hall hopes for more reform and funding for roads and bridges next year.
"I am looking forward to the 2017 legislative session in order to continue the dialogue over the search for sustainable sources of revenue and to address the governance cloud that remains," Hall says. "The goal will be to bring us much closer to providing a highway system in good condition that will be able to adapt as South Carolina continues to grow and to ensure our citizens that the funds are spent wisely on statewide priorities."