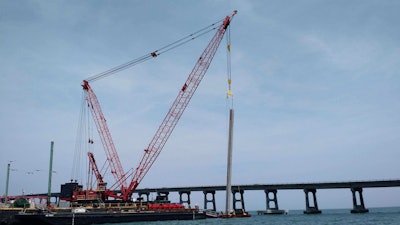 Construction crews installed the first piling for the the new Herbert C. Bonner Bridge over Oregon Inlet on May 9, according to a press release from the North Carolina Department of Transportation (NCDOT).
The bridge will have a total of 673 concrete pilings, ranging from 110 feet to 130 feet in length. The majority of the pilings will be 36 inches square, except for the pilings used in the marsh, shallow water and land portions of the bridge, which will be round, hollow columns 54 inches in diameter.
The first pilings will be installed in the middle of the bridge on a slight angle to provide greater stability and support, according to the press release. Extensive analysis and modeling shows that the new bridge design will eliminate problems with scour, which has caused safety concerns over the years and forced NCDOT to close the bridge entirely in December 2013.
"As we lay the foundation of the new Bonner Bridge, we are one step closer to providing a much needed lifeline between the Outer Banks and mainland North Carolina," says North Carolina Gov. Pat McCrory in the press release. "This is a great day for the people of the Outer Banks and all of North Carolina as we take a significant step toward better connecting our citizens to jobs, healthcare and recreation."
The project, including demolition of the existing bridge, is scheduled to be complete in September 2019.