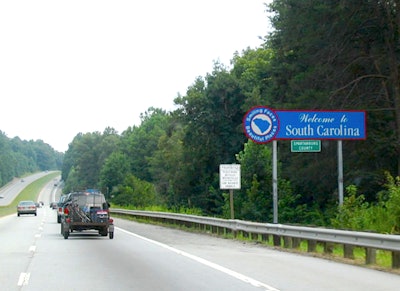 The South Carolina House and Senate are at odds over highway funding as the House has proposed spending $415 million while the Senate proposes spending $400 million, The Greenville News reports.
In the meantime, the South Carolina Department of Transportation (SCDOT) is deciding where to spend whatever amount of money it gets.
On April 15, SCDOT released its plan on how it would spend $415 million to the news agency.  According to the plan, $147 million would be spent on paving projects for the state's primary routes, and $65 million would go for paving projects on national routes, interstates, and major primary highways.
Another $79 million would go for bridge work on interstates and primary routes, while $25 million would go to help load-restricted bridges identified but not funded as part of the Act 98 program several years ago. Of the remaining money, $49 million would pay for flood recovery work and $50 million would go to county transportation committees.
However, according to the report, a Legislative Audit Council official told lawmakers that it would take more than $12 billion just to improve the state's roads rated as poor, and if all $415 million were spent on poor roads each year, it would take 30 years just to improve those roads.
SCDOT Chairman Mike Wooten told the news agency that he is disappointed in what is now being proposed for road funding and that charts handed out earlier this year with the list of what could be accomplished were based on additional funding each year for a decade.
"The question is what can you do with $400 million that is non-recurring," Wooten tells the news agency. "What you can do is apply it basically to road repair, paving. You can't plan with that money, so anything else on that list is pretty much off the table."
Among the state's unaddressed needs are the state's capacity issues, such as widening interstates, as well as the project addressing the convergence of Interstate 26 and Interstate 20 in Columbia, known locally as Malfunction Junction.
"Obviously, $400 million is a lot of money, and it will be put to good use, and we'll do the best we can to spend that money effectively in accordance with Act 114," Wooten tells the news agency. "I'm deeply disappointed that the Legislature and the Governor's Office didn't see fit to work together this year to come up with sustainable funding for the department. It's just disappointing that yet another year is going to go by when, obviously, we are not going to be able to determine what the future of the roads of South Carolina is going to be."