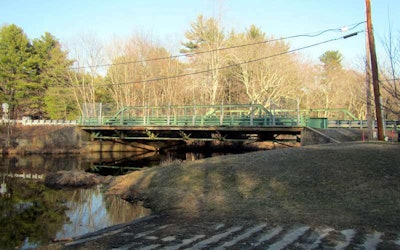 The Rhode Island Department of Transportation (RIDOT) is undertaking two major bridge projects—one being a complete replacement project and another involving restoration work on a historically significant bridge.
RIDOT plans to replace the Shippee Bridge in Burrillville, currently listed as structurally deficient, using accelerated construction techniques that include precast box beams assembled off site and cast in place structural segments. The agency plans to close the bridge for 120 days beginning April 4.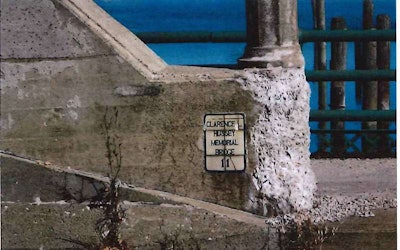 Completely closing the bridge, RIDOT says, will shave off four months of construction time. The work is budgeted for $2.2 million with a contingency of $52,600.
Roughly 1,400 cars travel over the Shippee Bridge each day, and it has had a 10-ton weight limit restriction since 2008. The structure dates back to 1890.
RIDOT also will be closing the younger, yet more historically significant, Clarence L. Hussey Memorial Bridge, for rehabilitation and restoration work.
The bridge designer, and namesake, was the first government-appointed bridge engineer Clarence Loring Hussey. It was built in 1925 as part of the Wickford National Register Historic District. It carries roughly 13,600 vehicles a day.
The agency plans to close the bridge in two phases, with the first set for April 1 through June 25 and the second scheduled for Sept. 6 through Nov. 16. The contract is valued at $1.7 million with a contingency of $197,000. The work will involve applying a special mineral coating to all concrete surfaces, painting the above-water steel components a graphite color to match the original design and repairing sidewalks, railings and the roadway.
RIDOT will use its new industry standard project management method, which assigns a project manager to ensure all "milestones" of a project are met, including "delivering the project on time, on budget and on scope."
"We thank the community for their patience and any inconvenience during the upcoming bridge closure," RIDOT Director Peter Alviti Jr. says, "but they can feel confident our new management and oversight of projects like this will ensure a smooth process and deliver the project with high quality results."