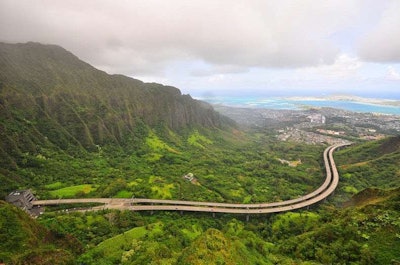 The National Highway Traffic Safety Administration (NHTSA) has recognized Hawaii Department of Transportation (HDOT) highway safety staff for their work to make the state's roads safer.
Specific achievements NHTSA officials cited from HDOT's Highway Safety Annual Report for 2015 include reductions in traffic fatalities and alcohol-impaired driving fatalities. Hawaii also is the only state to name a "Pedestrian Safety Month" aimed at bringing awareness to communities through pedestrian and driver education and media campaigns.
Traffic fatalities in Hawaii dropped from 102 in 2013 to 95 in 2014, with alcohol impaired driving fatalities reduced to 32 from 34 in the same time period. NHTSA says the improvements were "especially encouraging considering the increase in both the population and the amount of vehicles on Hawaii roadways."
Seat belt usage is high in Hawaii, with the state being ranked as one of the highest in the nation on a percentage usage basis. Last year, the seat belt usage rate was 93 percent.
"We would like to thank our many partners including the four County Police Departments, Prosecutors Offices and Transportation Services Departments, the Hawaii State Legislature, Department of Health, traffic advocacy groups and private agencies," says HDOT Director Ford Fuchigami . We also thank the public for driving cautiously and wearing seat belts. Please remember to always designate a sober driver. Together we can move toward the goal of reducing the traffic fatalities to zero."
NHTSA's commendation letter is available here.