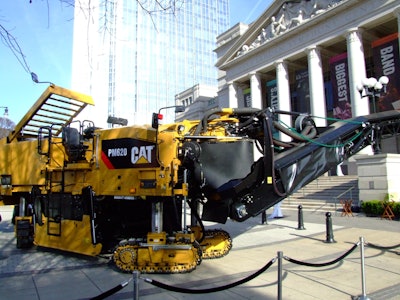 Caterpillar's new PM620 and PM622 cold planers, introduced during the 2016 World of Asphalt in Nashville, have been developed over several years in order to allow engineers to incorporate multiple customer driven features.
"This is the first time you can see the machine," A.J. Lee, market segment manager for cold planers, said at unveiling of the PM620. "It's been in development for some time in various iterations over the past 6 years, getting customer feedback throughout the field, making sure that we got good reliability, longevity and living up to the Cat brand in those aspects."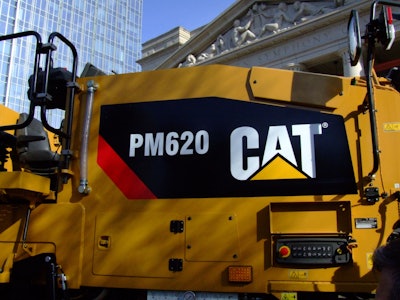 One of those features was increased storage, both at the ground level and at the operator's platform.
"One of the biggest things we get from customer feedback is that they want more storage," Lee said. "Keeping in mind this machine is run by at least two if not three or four guys. You've got the main operator upstairs, you've got one maybe two guys downstairs, one on each side, and then you also have a guy or two often behind sweeping up using a broom just doing odds and ends around the job site.
"They all have to pack their lunch somewhere and they all have to put a jacket somewhere. And then of course you've got to have jobsite tools and spare cutter bits. That's all got to be stored somewhere."
In addition to this creature comfort, Cat engineers also spent a lot of time developing the operator interface.
"With the control panels we moved to a push button system," Lee said. "This is the same system on our F series paver that was released last year. They're backlit—they're not painted on decals—they're actually embedded into the button material, so they don't wear out. They're rated to about a million cycles of push button use before they can expect a potential failure. To put that in perspective, an average toggle switch on a machine is rated at about 10,000 cycles before you can expect a failure."
The operator platform features dual control panels, displays and optional seats. The panels are mirror designed to allow for operation on either the left or right side and so the most frequently needed controls, usually placed closest to the operator's body, are in the same orientation on either side.
Another benefit to operators is the ventilation system, which collects dust in the transition area where the primary conveyor dumps into the secondary conveyor, and the chamber area where the material is being cut and put on to the collecting belt to go up and out and into a collecting truck.
"This comes standard on most North American machines and it's going to be an industry standard as of 2017 by NIOSH regulations," Lee said. "We basically elected that up until that point we're going to bring them all in (to compliance) regardless. And we'll probably be looking to do that in most places in the world, even though it's not regulated, just because it's becoming a safety standard in the industry that we want to push along with that."
Cat engineers also focused on serviceability in the machine's design, making access to filters and fluids easier from the ground level, and daily point checks easier from the operator stand. Lee says most engine work can be accessed from those two areas or by removing a panel from underneath the machine.
The PM620 and PM622 both feature the Cat C18 ACERT 630 hp engine. The PM620 has a 79-inch wide production rotor and the PM622 features an 88-inch wide rotor. Maximum cutting depth is 13 inches.