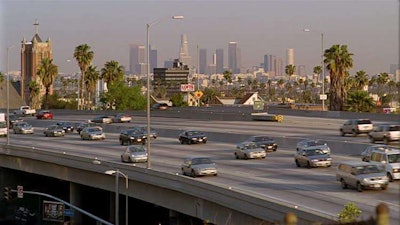 The Los Angeles Metropolitan Transportation Authority has ambitious plans for the city if a newly revealed plan passes in November.
The LA Metro announced the plan March 18 and said it would send about $120 billion to transit projects and highway projects over the next 40 years. Measure R would pay for these projects by extending LA county's current half-cent sales tax for another 18 years and by raising the sales tax another half-cent over the next four decades.
"As LA Metro plans for future growth and transportation needs, it is imperative that we look at all mechanisms at our disposal to ensure the region's mobility needs are met," LA Metro CEO Phillip Washington said. "Working with our community stakeholders, this expenditure plan brings us a step closer in defining what projects are needed and where the funding could come from to complete those projects."
Of the $120 billion, LA Metro plans to spend 17 percent on highway construction, 35 percent on transit construction, 20 percent on transit operations, 7 percent on metro rail repairs and operations, 2 percent on regional active transportation projects, 2 percent on a paratransit service for the disabled and 1 percent on regional rail.
The remaining 16 percent would be returned to local cities and the county for more localized transportation projects.
The dozens of projects planned if Measure R passes span across the city, and the Los Angeles Times reported that LA Mayor and Metro Director Eric Garcetti said there's a reason for that.
"There's an understanding that if people are paying taxes in a region, they should see results," Garcetti said. "There will not be everything for everyone, but there's something for everyone."
According to the LA Metro, the following projects would be set for the first 15 years of the plan:
Crenshaw/LAX Line station and transit center to connect with LAX people mover
Purple Line Extension subway to Westwood (a decade earlier than currently planned)
East San Fernando Valley Transit Corridor from Orange Line Van Nuys Station to Sylmar/San Fernando Metrolink Station
High Desert Corridor right-of-way acquisition
Sepulveda Pass Busway/ExpressLanes from the Valley to the Westside
Orange Line grade separation improvements
West Santa Ana Branch Corridor from Artesia to just north of the Green Line
I-710 South Corridor truck lanes Phase 1
Vermont Transit Corridor improvements between the Expo Line and the Red/Purple Line
New lanes for the 71 freeway between the 10 and Rio Rancho Road
105 ExpressLanes between the 405 and 605
I-5 North enhancements between the 14 freeway and Lake Hughes Road
An extension of the Gold Line east from Azusa to Claremont
Bus rapid transit connector between the Orange Line/Red Line and the Gold Line
LA River Bike Path connecting downtown Los Angeles to the San Fernando Valley
LA River Waterway & System Bike Path connecting Canoga Park to Elysian Valley
Crenshaw/LAX Track Enhancement Project