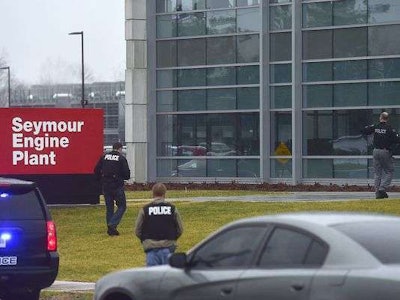 Two employees at Cummins Inc.'s Seymour Technical Center are dead in the wake of a shooting police are describing as a murder-suicide.
According to the Indianapolis Star, the shooting happened just before 8:30 a.m. Thursday at the diesel engine manufacturer's facility in Seymour, Indiana. Police were called to the scene, and nearby businesses and schools were put on lockdown as cops searched the facility.
The Seymour Police found the two men's bodies in a conference room on the second floor. The police secured the scene by 9:30 a.m. and announced the area was safe after employees were sent home.
The Star reports that police have identified the two men as 49-year-old Ward R. Edwards, a supervisor, and 37-year-old Qing Chen, who reported to Edwards. Police said Chen is the suspected shooter.
No one else was injured in the shooting.
Indiana Gov. Mike Pence issued the following statement about the shooting:
"Our hearts go out to the family of the victim of this senseless act of violence at the Cummins plant in Seymour earlier today. We commend local law enforcement for their swift response to this incident and will provide any and all support from Indiana State Police in the investigation."