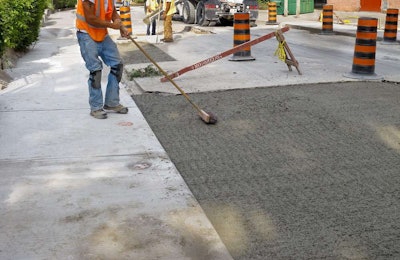 The American Concrete Pavement Association recognized three agencies for technical, lifetime pavement and sustainable practices achievements at its recent annual meeting.
Harold J. Halm Presidential Award
The Wisconsin Department of Transportation received the Harold J. Halm Presidential Award for its life cycle cost and pavement type selection policies that ACPA says recognize the "importance that healthy industry competition" has on lowering overall costs to the public and creating high quality pavements.
"Good pavements are built by good contractors and the Wisconsin DOT's steady hand is a result of its focus on maintaining an excellent core of contractors with highly skilled crews," said ACPA President and CEO Gerald F. Voigt. "For more than 50 years Wisconsin DOT has proactively managed their pavement network using a variety of solutions involving both concrete and asphalt pavement. Their policies have resulted in some of the highest quality pavements and one of the most well-maintained pavement networks in the United States." He added that the state's pavement cost are among the lowest unit costs in the country, as measured by the square yard of concrete or ton of asphalt.
The Harold J. Halm Presidential Award has been awarded selectively since 1994. It is presented to an individual or organization for "distinguished achievement." The award is named in honor of the first president of ACPA, who served from 1964 until his death in 1985.
Lifetime Pavement Recognition Award
Westminster Avenue between 1300 East and 1400 East in Salt Lake City received the Lifetime Pavement Recognition Award. Built in 1916, it is one of the first concrete streets built by the city.
"The cost of construction was $5,894.74, which if divided evenly over its 99-year life means that it only cost the city $59.54 per year plus any minimal maintenance costs expended over its lifetime," Voigt said.
The original construction was a trapezoidal design of between 5 to 7 inches of concrete pavement (7 inches at the crown, 5 inches at the outside edges). Voigt added that although city has no documented record of maintenance on the street, there have been only isolated repairs and a few full depth slab replacements during its lifetime.
The award has been given annually since 1994 and is presented to the agency owner of an in-service concrete pavement that has demonstrated exceptional performance and service to its local community, state and users.
Sustainable Practices Recognition Award
The Utah Department of Transportation's (UDOT) Region 2, Geneva Rock Products and Holcim received ACPA's Sustainable Practices Recognition Award to work on the I-80 reconstruction project from Silver Creek Junction to Wanship, Utah.
ACPA says the project is believed to be the first partial depth reclamation of only 4 inches of existing asphalt with cement in addition to being the first large scale paving project using Envirocore cement. The group adds the project has made UDOT and other players in the concrete pavement industry more aware of what can be done in applying sustainable practices without impacting cost, schedule or the traveling public.
The ACPA Sustainable Practices Recognition Award was first presented in 2010 and is given to an organization or team (owner and contractor) that demonstrates leadership by implementing sustainable design and construction practices that consider societal, environmental and economic factors.