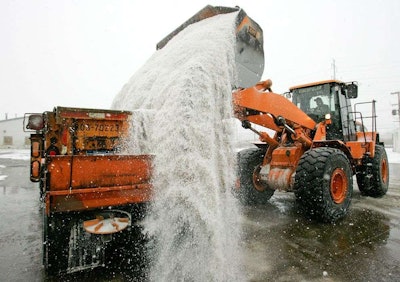 The Colorado Department of Transportation has begun employing the use of a Montana company's bio-based corrosion inhibitor in order to reduce corrosion from salt brines used to de-ice the roads.
Renewable chemicals company Rivertop Renewables announced that CDOT has begun using the Headwaters 10F corrosion inhibitor in some locations across the state. Headwaters will be used in conjunction with the salt brines to combat the corrosive effects on roads, bridges and vehicles.
"We're proud that the Colorado Department of Transportation has chosen Headwaters to minimize the costs of corrosion, while maintaining the effectiveness of their de-icing treatments," Rivertop Renewables CEO Mike Knauf saod. "Headwaters inhibitors have been developed to be biodegradable, effective products that not only make sense financially, but also meet environmental standards that are important to Colorado citizens."
The company says that the product will reduce corrosion by more than 70 percent. That translates to $830,000 in combined savings to the four counties using it this year. Rivertop expects it could save Colorado about $14 million each year if they were to start using Headwaters across the state.
Rivertop said that corrosion and environmental costs related to de-icing is about $632 per ton, and the country goes through 17 million tons of salt each year—meaning the salt costs America about $8 billion in corrosion costs.