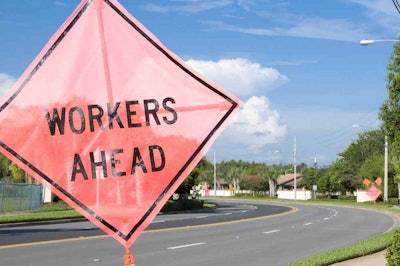 Karen Burkhalter's husband was working on a Wisconsin highway back in April when he was struck by a driver. It marked Calumet County's first highway department death.
Burkhalter's husband Derrick was recently honored at a ceremony announcing there would be a memorial set up in the worker's honor, according to WBAY.
The fallen DOT worker was operating a road grader when he was rear-ended by a car on Highway 114. The driver of the car and Burkhalter were both killed. During the ceremony, his widow spoke of the need for more safety in construction work zones.
"I think it really gives us an opportunity to bring this to light that people pay attention to the road workers and know that they all have a family that they hope to make it home to," Karen Burkhalter said. "… Derrick really was proud to work for the community. He had a good work ethic and he was glad to be a public employee, and he came to work everyday to do the best he could do."
The family will decide where a plaque in Burkhalter's name will be erected, but for the time being, the county wants to follow Karen Burkhalter's lead and advocate for safer driving behavior when workers are present.