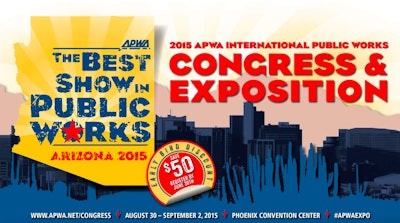 The American Public Works Association's (APWA) 2015 International Public Works Congress & Exposition, set for August 30 through September 2, will feature more than 400 exhibitors and is expected to attract nearly 6,000 attendees to the Phoenix Convention Center.
APWA has also secured Marcus Luttrell, a former Navy Seal and the author of "Lone Survivor and Service: A Navy Seal at War," as the opening keynote speaker.
"APWA's 2015 International Public Works Congress & Exposition will prepare attendees for the future of their communities and bring forward new trends in public works," said APWA President Brian Usher and public works director for Largo, Florida. "Congress participants will share their knowledge and experience in addressing both day to day challenges and long term issues that will help them provide critical services more cost-effectively throughout the U.S. and Canada."
"The Best Show in Public Works" will also offer on the 85,000-square-foot expo show floor a Technology Pavilion, Sustainability Pavilion, Exhibitor Solutions Theater, There's an App for That Theater, New Product Showcase booth and Big Idea's Theater.
In addition to Luttrell's keynote presentation on August 30, APWA's 2015 Emerging Leader's Academy panel on September 1 will offer a look at new technologies, including drones, unmanned cars and intelligent transportation systems. Two additional speakers will include U.S. Department of Transportation Team Leader Kate Hartman, A2 Technology Management President Tom Schaffnit.
Presenting the keynote speech on Sept. 2 will be long-distance swimmer and sports journalist and broadcaster Diana Nyad, who swam from Cuba to Florida in September 2013. On Sept. 3, author and journalist Dan McNichol will discuss his Low & Slow Across America's Infrastructure Tour.
Other events include:
Public Works Stormwater Summit
International Public Works Directors' Roundtable
Institute for Sustainable Infrastructure Envision® Roundtable
Self-Assessment Using the Public Works Practices Manual workshop
Workshop/Tours:
Behind the Scenes: NRG Energy Center Phoenix and Chase Field Tour
ASU Solar: The Largest Solar Portfolio of any university in the U.S.
University of Phoenix Stadium
Resource Innovation Campus Tour
Phoenix Sky Harbor International Airport Sky Train System
PHX Renews: Keep Phoenix Beautiful – 15 Acre Vacant Lot Initiative
For a full list of events, as well as registration information, visit https://www.apwa.net//congress.