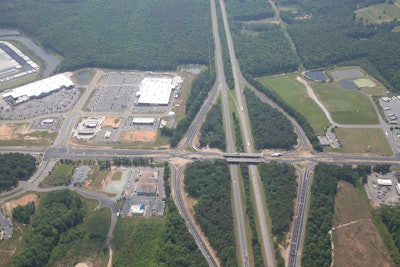 The departments of transportation for Missouri, North Carolina and Virginia each won National Awards of Merit in the Design-Build Institute of America's (DBIA) 2015 Design-Build Project/Team Awards program for the Transportation (Non-Aviation) Category, one of nine total award categories.
"This year's winning projects exemplify Design-Build Done Right in their design-build process, excellence in design and extraordinary teaming performance," said DBIA Executive Director/CEO Lisa Washington. "The jury's difficulty in choosing winners demonstrates how much design-build expertise has expanded since we started the awards program in 1996."
"To win a National Design-Build Project/Team Award, projects must not only achieve budget and schedule goals, but also demonstrate advanced and innovative application of design-build best practices," she added.
The Missouri Department of Transportation (MoDOT) was honored for its Safe & Sound Bridge Program. The design-builder was Kiewit Infrastructure Co. (The prime contractor is KTU Constructors (KTU), a joint venture of Kiewit Western Co., Traylor Brothers Inc., and United Constructors Inc., with HNTB and the LPA Group—a division of Michael Baker Jr. Corp.). Kiewit Infrastructure Co. was the general contractor; HNTB and LPA (a division of Michael Baker) were the engineers; FMI Corp. was the specialty consultant; and other "key" professionals involved include Traylor Brothers Inc. and United Constructors Inc.
The North Carolina Department of Transportation won for the Interstate 485/Interstate 85 Turbine Interchange. The design-builder and general contractor was The Lane Construction Corp.; STV Inc. was the engineer; RK&K and ECS Carolinas were the specialty consultants; and other "key" professionals involved include SEPI Engineering, Progressive Design Group and Telics.
The Virginia Department of Transportation was recognized for improvements at the I-64/Route 15 (Zion Crossroads) Interchange. Corman Construction Inc. was both the design-builder and general contractor; Parsons Transportation Group and Wallace Montgomery & Associates were the engineers; specialty contractors include S.L. Williams Co. Inc. and Snead & Son Trucking, LLC; F&R and Continental Field Service were specialty consultants; and other "key" professionals involved include McDonough, Bolyard, Peck Inc., Endesco and Schnable Engineering.
DBIA says one of these three projects will be named the National Award of Excellence winner at the association's Design-Build Conference & Expo Nov. 3 in Denver. More information is available at https://dbia.org/.