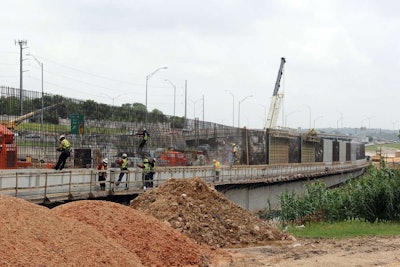 Austin is the latest city in the U.S where contractors are concerned over the shortage of skilled construction workers.
According to a report from KVUE, construction crews are adding one toll lane in each direction to the congested 11-mile stretch of Texas State Highway Loop 1 (the MoPac) from Parmer Lane to Cesar Chavez Street.
"It's a long list of things that have been a challenge on the project: Utilities, rock that was harder than anticipated," says Steve Pustelnyk, director of community relations for the MoPac Improvement Project.
These challenges combined with an inability to find enough craft workers have pushed completion for the project, originally scheduled for this fall, to 2016.
There is so much work in Central Texas that the shortage is impacting more than MoPac. From constructing hotels to building homes, contractors around town can't find employees.
Even though the MoPac project pays between $15 and $20 an hour, which is above average for construction workers, and the contractor provides training, they are going through a constant cycle of gaining 10 workers, then losing 10.
Since the shortage is expected to get worse, subcontractors are bringing in workers from outside of Austin to keep from depleting their current workforce even more.