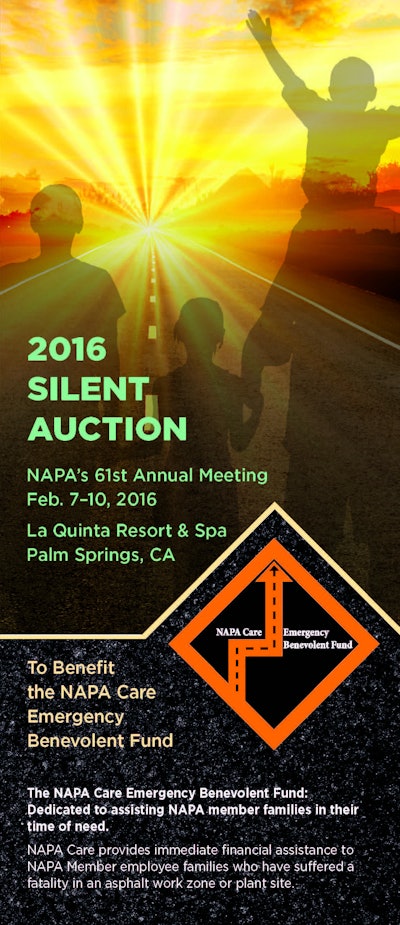 The National Asphalt Pavement Association will hold a silent auction at its 2016 annual meeting to help fund and take a step toward long-term endowment of the NAPA Care Emergency Benevolent Fund.
The announcement was made at the association's first general session of its midyear meeting in Denver.
The program provides immediate funds ($5,000) to families of a NAPA member employee who suffered a fatality at work zone or asphalt plant site.
NAPA's Associate Member Council plants to host the silent auction during the 2016 meeting in Palm Springs, California, Feb. 7-10.
The association is looking for donations with a suggested minimum value of $1,000, and is hoping to reach 50 items at that value.
Items already donated include:
$5,000 gift card from Caterpillar
$2,500 gift certificate from Bomag
Trip for two to Nashville to the Country Music Awards in a private jet from Roadtec and Astech
100 fresh Maine lobsters from Lane Construction
A hunting trip for four from Wirtgen
A yacht trip for five that still in the process of being finalized from FNF Construction, Superior Paving, and Atlas Copco among other companies
"Thanks to many of you, we've raised $337,000 in cash and pledges, we've paid out $85,000 over the last three years in benefits, and we have $203,000 in the bank," Roger Sandberg, Maxam Equipment and NAPA chairman said to attendees of the NAPA general session.
"Our final goal with this program is to get it permanently endowed. With your help, we think we can fund NAPA Care for posterity.".
Donations can be made at www.napacareauction.24fundraiser.com and the deadline is Oct. 30. Contact NAPA's Kelly Kanaras for more information: 301-731-4748; [email protected].