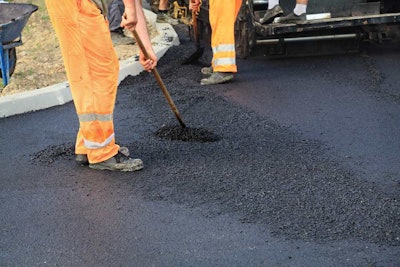 The National Asphalt Pavement Association (NAPA) presented its 2014 Operational Excellence Awards in five categories during the associations first general session of its 2015 Midyear Meeting in Denver.
The winners and finalists include:
Asphalt Operations Safety Innovations Award
For most innovative safety practices
Winners
Lakeside Industries Inc., Issaquah, Washington, custom-fitted hearing protection
Payne & Dolan Inc., Gladstone, Michigan, break-away paver guide bar
Community Involvement Award
For outstanding community relations programs
Winner
Pennsy Supply Inc., Harrisburg, Pennsylvania, community outreach
Finalists
Barrett Paving Materials Inc., Watertown, New York, "The Road to a Better Community"
Silver Star Construction Co. Inc., Moore, Oklahoma, community team
Tilcon New York (an Oldcastle Materials Co.), Wharton, New Jersey, community involvement program
Ecological Award
For safe and responsible environmental practices
Winner – Existing Plant
Duval Asphalt Products Inc., Jacksonville, Florida, plant 2
Winner – New Plant
Commercial Asphalt Co., Maple Grove, Minnesota, Blaine Plant
Outstanding Website Award
For outstanding websites promoting asphalt
Winners
Finalists
Outstanding Brochure Award
For outstanding brochures promoting asphalt
Winner
L.L. Pelling Co. Inc., North Liberty, Iowa, "Iowa Rides on Us"
NAPA will accept nominations for the 2015 Operational Excellence Awards, to be presented at its 2016 Midyear Meeting, until December 4.