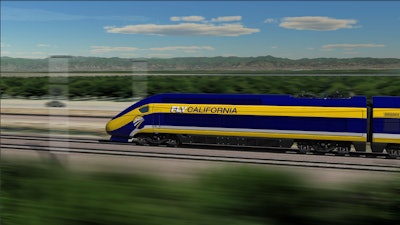 Five months after ground was broken in Fresno, construction on California's first high-speed rail line began earlier this week.
According to a report from the Fresno Bee, crews began work Tuesday in Madera on the first of 16 concrete footings that will form the foundation of a 1,600-foot viaduct over the Fresno River.
Expected to be completed by 2029, trains on the $68 billion railroad will travel at speeds up to 200 miles per hour, spanning 520 miles from San Francisco to Los Angeles in under three hours. At the groundbreaking, California's building trades union council director called the line the "greatest infrastructure project, not only in the history of California, but the nation."
The footings are the first step in building the first 29-mile stretch of the railroad connecting Madera to Fresno.
"To some people, this seems like it's been a long time coming," Jeff Morales, CEO of the California High-Speed Rail Authority told the Bee. "Over the next few months, people will see things happening at about a half-dozen different sites. By the end of the summer, you won't be able to go anywhere in the Valley without seeing people in orange vests and green shirts hard at work."