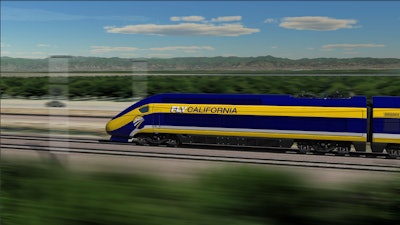 Despite years of controversy and wondering where the money to fund its construction would come from, ground was officially broken Tuesday on California's first high-speed rail line in Fresno.
Expected to be completed by 2029, trains on the $68 billion railroad will travel at speeds up to 200 miles per hour, spanning 520 miles from San Francisco to Los Angeles in under three hours.
According to a report from the L.A. Times, Gov. Jerry Brown declared Fresno the "nation's high-speed rail capital and the 'central cog' of a new transportation system." Brown emphasized the importance of the train's ability to more quickly connect the southern and northern halves of the giant state.
With more than a dozen construction workers gathered around the podium at the groundbreaking, Robbie Hunter, California's director of the building trades union council, said the project would create 66,000 construction jobs over the next 16 years. Hunter said the line is the "greatest infrastructure project, not only in the history of California, but the nation," the Times reports.
The project needed a lot of help since its inception six years ago in reaching the groundbreaking, including voter approval of a $9 billion bond measure in 2008, the Obama administration's addition of $3.2 billion in grants and the California legislature's decision to provide the project with 25 percent of the state's future greenhouse gas fees—up to $1 billion a year.
However, there is still much opposition to the project, especially among those who remain unconvinced the state can come up with all of the necessary funding over the next two decades.
Plus, many believe the project will far exceed its $68 billion budget, the Times reports. Should that happen, securing extra funding could be especially difficult when considering that the project likely won't receive any more federal funding now that Congressional Republicans—who have "vowed" not to provide more funding—control both the House and the Senate.