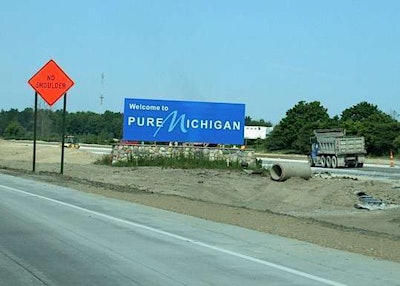 Lawmakers in the Michigan House of Representatives narrowly passed a 12-bill package to provide $1.16 billion for infrastructure work.
The funds from the package largely come from existing tax revenue and by eliminating a tax break for low income families, the Detroit News reported.
About $700,000 million of the funds would come from earmarking some of the state's income and sales taxes for transportation funding while $135 million will be redirected from economic development funds. The plan also raises $119 million in revenue from a fee on hybrid and electric vehicle, a diesel tax increase to 19 cents and future fuel tax increases based in inflation.
The package comes as the state struggles to fund transportation work following taxpayers in the state overwhelmingly voting down Proposal 1 on May 5, which would have raised about $1.25 billion for road repairs.
House Speaker Kevin Cotter (R-Mount Pleasant) said the packaged plan makes Michigan prioritize "the needs before the wants." He said it makes road funding a higher priority for state lawmakers. However, the plan has plenty of detractors: It passed 57-52 with all Democrats and six Republicans voting against it.
"I haven't heard anyone who voted against Proposal 1 say that they want us to stick it to poor people even more," Rep. Brandon Dillon (D-Grand Rapids) said. "This is plain mean."
Much of the opposition comes from the elimination of the Earned Income Tax Credit, a tax refund for low-income families. Rep. Marilyn Lane (D-Fraser) said that it was "monopoly on steroids" to rely on existing tax revenue to fund roads.
The bill isn't expected to go far in the Senate, and Gov. Rick Snyder said at the end of May that he would not support legislation that redirects money from the economic development funds to transportation.
"This is all about House Republicans pretending like they're doing something so they can pat themselves on the back … and go home for the summer," House Minority Leader Tim Greimel (D-Auburn Hills) said.