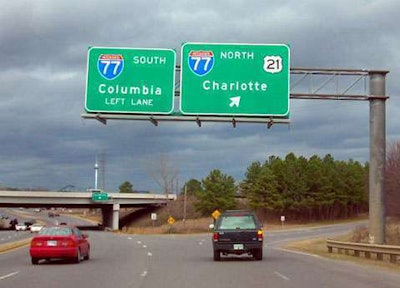 The North Carolina Department of Transportation closed on a deal with Cintra Infraestructuras for a $648 million project on Interstate 77.
The project is set to create toll lanes for 26 miles along the interstate from Mooresville to Charlotte, according to WSOC.
The project has been controversial because of the toll lanes, but the plan appears to be all but set in stone. It would cost North Carolina $100 million to back out now.
Cintra, a subsidiary of Ferrovial, will handle the project to widen 26 miles of I-77. The road will be reconstructed and new lanes created to increase the capacity and improve traffic flow.
"Cintra is committed to working with state and local leaders to ensure economic development opportunities and safe, reliable, efficient transportation solutions for residents of this fast growing region," Cintra's U.S. president Nicolas Rubio said. "The I-77 project will help reduce roadway congestion and will provide more driver choice, ultimately resulting in travelers spending less time stuck in traffic."
WSOC reported that Cintra will control the toll lanes and set the toll's price once the construction is complete.
About 50-100 firms in the area will handle the actual construction work. The project is expected to generate 8,000 jobs.