The Iowa Department of Transportation (IDOT) proposes $3.2 billion in highway right of way and construction projects in its draft fiscal Year 2016-2020 Iowa Transportation Improvement Program presented to the Iowa Transportation Commission (ITC).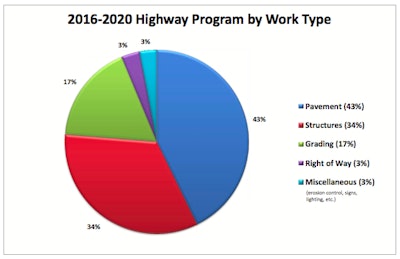 The ITC will meet June 9 in Council Bluffs to consider approving the program plan. The public can post comments on it here.
Of that total figure, $1.1 billion would be dedicated for state-owned bridges and $1.3 billion would be set aside for "modernization" and "enhanced" features for highway safety.
"Transportation powers the creation of wealth in our nation and state unleashing opportunity for economic activity," the introduction of the report reads. "Iowa's economy is dependent on a robust and diverse transportation system to move products to a global marketplace. Iowa's transportation system has long provided our state's businesses a competitive advantage and that remains true today in the global economy.
The report makes mention of the increased transportation funding provided by an increase in the state's gas tax to 10 cents recently signed into law by Gov. Terry Branstad, saying 100 percent of the additional revenue allocated to IDOT will be spent on road and bridge projects.
The program plan details the type of work to be completed for FY2016-2020, with the majority (43 percent) for pavement, 34 percent for structures, 17 percent for grading, 3 percent for right of way and 3 percent set for miscellaneous work such as erosion control, signs and lighting.
The plan provides specifics for each year, with breakdowns even further in the work categories. In 2016, for example, the plan calls for $318.5 million for non-interstate work, $213.7 million for major interstate work, $86.2 million for interstate stewardship, 75.1 million for non-interstate pavement modernization, $30.2 million for non-interstate bridge modernization and $15.6 million for safety work.
The plan can be read in its entirety here.