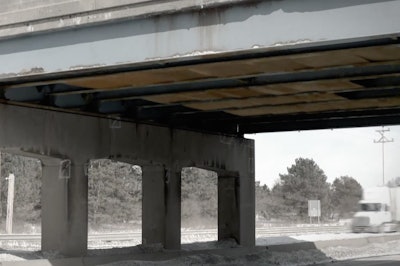 The Road Improvement Program's latest report examining the conditions of Michigan's transportation system identifies issues with "long-term economic growth" if roads and bridges within the state are not improved within the next few years.
"Failure to make needed improvements to Michigan's transportation system could threaten the state's economic recovery," the organization said.
In the report, "Michigan's Top Transportation Challenges: Meeting the State's Need for Safe and Efficient Mobility," TRIP predicts pavement conditions will "deteriorate significantly" between now and 2025 if funding for transportation projects continue at current levels.
By that point, the group expects 53 percent of the state's major roads to be in poor condition, compared to 38 percent in 2014 and 23 percent in 2006.
The number of deficient bridges also is expected to rise, with 14 percent being structural deficient by 2023. This would be a slight increase from 2014, when the 12 percent were structural deficient. Functional obsolete bridges account for 16 percent of the total.
"Michigan drivers have a unique opportunity to address our deficient roads and bridges in a few weeks," said Denise Donohue, director of the County Road Association of Michigan. "Proposal 1 will add $1.2 billion to road funding, and it will be constitutionally dedicated to roads. We won't fully recover from our current band-aid approach to roads for several years, but passing Proposal 1 puts us on the right path."
"Michigan's economic recovery is threatened by increased road and bridge deterioration, freight bottlenecks and the lack of needed transportation improvements to serve economic development," TRIP said in a statement. "The efficiency and condition of Michigan's transportation system, particularly its highways, is critical to the health of the state's economy.
"Annually, $520 billion in goods are shipped throughout Michigan, mostly by truck. The amount of freight, measured by weight, shipped annually throughout Michigan is expected to increase by 25 percent from 2015 to 2030, putting further stress on the state's roads, highways and bridges."