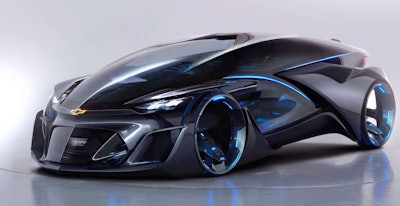 [imagebrowser id=241]
At the Shanghai auto show this week, Chevrolet has unveiled a driverless car that should excite anyone who ever loved Hot Wheels as a kid.
This electric, self-driving car concept looks straight out of the future that, if we're all honest, we imagine when we think about how cars of the future should look. I'll let the car purists break down the specifics about the aesthetics, which Chevy calls a "capsule design." All I'm saying is this thing is a breath of fresh air for those of us caught between the hope of a renaissance in car design and the despair that flying cars are never going to happen.
Chevy says the car has "crystal laser headlights and taillights, dragonfly dual swing doors, magnetic hubless wheel electric motors," and it has a wireless charging system.
But what about the more important aspects? You know, the fact that this car drives itself and is powered by electricity? Honestly, I'm not sure what's harder to believe: that cars sold to the general public will ever look this exciting or that we'll soon be permanent passengers, traveling between charges in self-driving Lamborghini-like pods.
Even Chevrolet admits that a lot of the technology in the concept is, "usually seen only in science fiction movies." For instance, the car starts up by scanning your iris and is capable of making route decisions on the fly. And with a gesture, the car can be switched to manual mode when you feel like driving.
So, is this a peek into the near-future? Probably not. Given the state of American infrastructure and lawmakers' seeming unwillingness to strike a reasonable compromise to make necessary repairs and bring our roads and bridges into the 21st Century, it's unlikely cars like the FNR will be ruling the roads any time soon.
What do you think? Will the majority of automobiles on our future highways be either electric or self-driving, but not both? Let us know in the comments below.