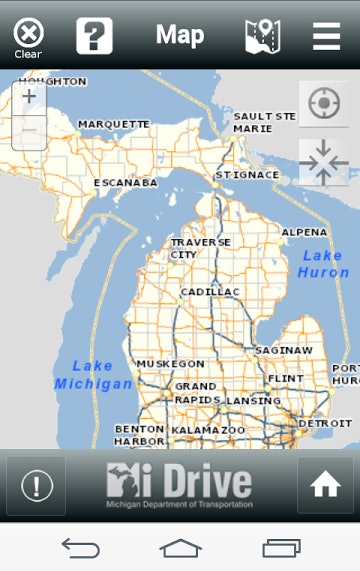 The Michigan Department of Transportation's (MDOT) free Mi Drive app, which has reached more than 40,000 downloads since its launch in November 2014, helps motorists find alternate routes around construction zones with details on traffic incidents and the latest construction project updates.
"The summer driving season is always hectic but it's no secret there's work to be done on our aging infrastructure," said State Transportation Director Kirk T. Steudle. "Part of MDOT's job is not only to do the best job we can maintaining Michigan's transportation infrastructure with the resources available, but also to keep motorists safe, informed, and mobile. Mi Drive does a great job of helping MDOT serve the public."
Mi Drive provides real-time construction project conditions via Intelligent Transportation Systems (ITS) technology, speed sensors, cameras and cell phone data.
The app can show real-time traffic camera views, color-coded road speeds, text on highway message boards, rest area details, vehicle incident reports, weather reports, plus motorists can also report potholes.
The app is available for free for both iOS and Android devices. Mi Drive also can be viewed through a browser at www.michigan.gov/drive.