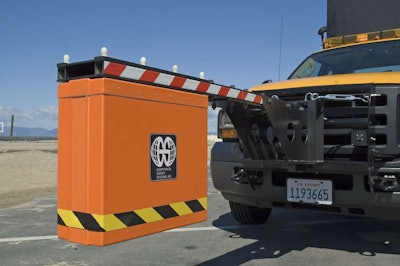 Geophysical Survey Systems Inc.'s (GSSI) new RoadScan 30 ground penetrating radar (GPR) system can inspect and analyze roads at highway speeds and can be mounted to the front of a truck.
GSSI says the system is designed for measuring pavement thickness, evaluating a road base and sub-base, and measuring available asphalt before milling operations begin. By being truck-mounted and traveling at highway speeds, no lane closures are needed.
The system includes a SIR 30 control unit with a 1.0 or 2.0 gigahertz horn antenna (up to four antennas can run simultaneously), a Smart ID module, a wheel-mounted distance measuring instrument, 7-meter control cable, transit case, mounting kit, and AC adapter.
Data is output in ASCII file format so files can be transferred to a variety of software programs, but information can also be exported as Google Earth™ files.