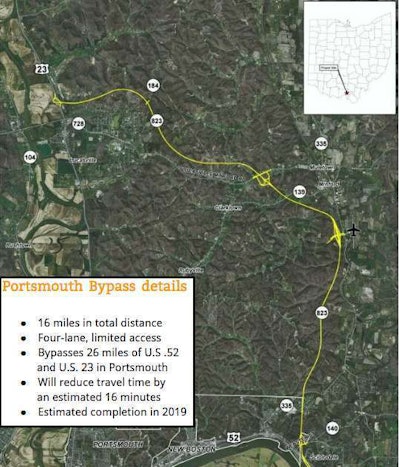 The Ohio Department of Transportation (ODOT) will begin work on its largest project to date—a roughly $430 million 16-mile bypass around Portsmouth—this summer with assistance from a potential $209.3 million loan from the U.S. Department of Transportation (USDOT).
The project is also ODOT's first public-private partnership (P3) via a new rule in the state that allows the private sector to be involved with public transportation work.
In announcing the loan from USDOT's Transportation Infrastructure Finance and Innovation Act (TIFIA), Transportation Secretary Anthony Foxx said the project would make a huge impact on the area.
"This is an important project that will not only improve highway safety, but represents an important partnership between the public and private sector to advance our overall investment in this nation's infrastructure." Foxx said. "The Portsmouth Bypass will benefit the entire community by reducing the number of trucks in the city and opening up the area for economic development."
USDOT is continually looking for ways to expand P3 projects as part of the Build America Investment Initiative, particularly with the new Build America Transportation Investment Center that the department calls a "one-stop shop to support potential (P3) projects."
"By using a P3 project delivery, ODOT is able to accelerate this project," Deputy Federal Highway Administrator Gregory Nadeau said. "The TIFIA program is providing a critical piece of the financing to complete the missing link of the Appalachian Development Highway System in Ohio."
The bypass is one of several projects recently approved by the Ohio DOT's Transportation Review Advisory Council totaling roughly $2.5 billion in projects over the next 11 years.