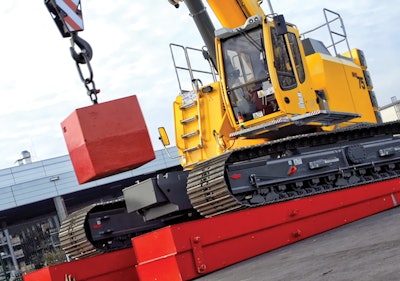 [imagebrowser id=227]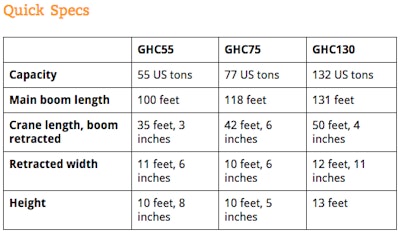 Manitowoc recently unveiled its latest Grove telescoping crawler cranes, taking the wraps off the new GHC series and discussing its value for utility contractors and road builders .
Short for Grove Hydraulic Crawler, the new GHC Series will be distributed by Grove and include the 55-ton GHC55, 77-ton GHC75 and the 132-ton GHC130. All three cranes are powered by Tier 4 Final Cummins engines.
The cranes are the result of Manitowoc's partnership with Sennebogen Maschinenfabrik, which will manufacture the machines in Straubing, Germany.
Manitowoc says the cranes offer the versatility of telescoping booms in the package of a small crawler crane. You can see those compact dimensions in the chart to the right.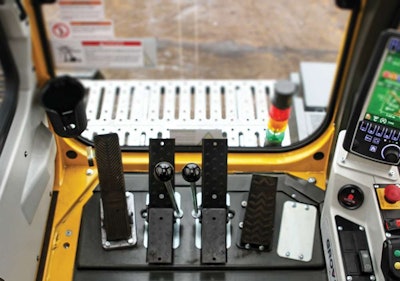 "The GHC series is for customers that need a compact, maneuverable crane that can face the rigors of merciless terrain," said Mike Herbert, Manitowoc's global product director for rough-terrain cranes. "With minimal transport requirements, 100 percent pick-and-carry ability and a telescoping boom, these cranes will prove very nimble in both getting to and navigating job sites."
Each of the three cranes feature pick-and-carry capability at 100 percent of their load chart and can swing loads 360 degrees. Manitowoc says that combined with the cranes' maneuverability and small footprint makes them perfect for utility jobs.
At a recent dealer event, David O'Connel, president of Manitowoc dealer Shawmut Equipment said he expects considerable interest in the cranes from his customers in utilities and roadbuilding.
"This is because of the quick setup times, the 100% pick and carry capacities, the cranes' full 360-degree swing capabilities, and because the GHC series cranes can still pick a load when not completely level," he said.